TERRITORIO: IL ROERO
Territory: the Roero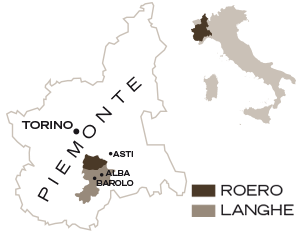 Al confine tra le province di Asti e Torino si estende, tra le Langhe e Monferrato, una zona collinare denominata Roero. Appartengono a quest'area, ristretta ma del tutto particolare, poco più di venti comuni tra i quali spicca Santo Stefano Roero.
Il paesaggio è vario, ricco di vallate profonde, di versanti scoscesi, di colli variamente coltivati a vite e a frutteto.
Le rocche, in particolare, costituiscono uno spettacolare scorcio del territorio roerino. Il terreno sabbioso, friabile e di color ocra, ben si presta alle coltivazioni e all'intervento dell'uomo che, nel corso dei secoli, ha modificato l'originario paesaggio silvestre, rubando ai boschi ampi spazi che ora, con l'alternarsi delle stagioni, si dipingono dei variegati colori delle colture della zona.
At the border between the provinces of Asti and Turin – between the Langhe and the Monferrato – lies a hilly area called Roero. Although rather small in its geographic extension, it is highly distinctive in its landscape. It includes twenty small towns, prominent among which is Santo Stefano Roero. The general landscape is varied, featuring deep valleys and steep hillsides dotted by orchards and vineyards.
The rocche (rocks), in particular, offer a breath-taking view of the Roero country. Their sandy, brittle, ochre-color soil is well fit for cultivation and, over the centuries, man has progressively modified the original, sylvan landscape wresting from the forest wide stretches of land that nowadays, with the succession of the seasons, show the variegated colors resulting from the diverse cultivations carried on in the area.
---
Unire la Tradizione all'Innovazione, producendo vini di qualità superiore,
grazie ad un'attenta cura delle uve
Combining Tradition and Innovation, producing superior quality wines,
trough careful treatments of the grapes
Vini Piemontesi dal 1957 – Piedmontese Wines since 1957
Lontane dal mare e dal suo benefico influsso moderatore, le colline del Roero sono soggette ad un clima tipicamente continentale e tendenzialmente arido, anche a causa delle scarse precipitazioni estive. I terreni agrari sono ricchi di sabbie, argilla, calcare e humus che favoriscono la coltura della vite.
Located far from the sea and its mitigating influence, the climate of the Roero hills is typically continental and basically dry, also due to the poor rainfall. Agricultural lands are rich in sand, clay, limestone and humus. These characteristics make them particularly fit for vine-growing.
---